Coordinated in the UK by the UK Safer Internet Centre, Safer Internet Day provides an opportunity for us all to think about our digital experiences.
This important day is celebrated globally each year to promote the safe use of digital technology for children and young people, whilst reminding us all to work together to be positive, safe and respectful online. The theme for 2019 is to work 'together for a better internet', as endorsed by this year's mascots, Zap and Zoom! Over 2,000 organisations and schools have come together to deliver this message, which reflects the importance of making positive changes on the internet, and using this amazing resource for good.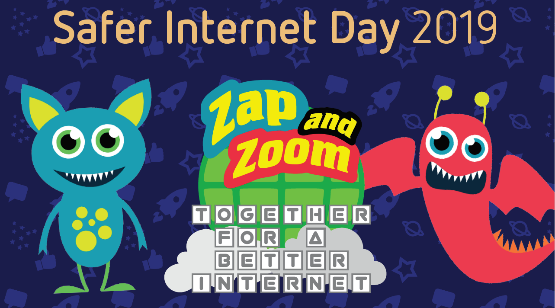 Thank you to our Digital Leaders, who helped to prepare and deliver two very informative assemblies, which focused on the asking, giving and receiving of consent online. From sharing images and videos, to managing privacy and data, it's vital to understand how personal information is used in an online context.
To support our parents in having conversations about the positive impact of the internet and children's online experiences, we have attached the following resources (see below):
Fun activities that you can do together to explore ways to stay safe and positive when using technology.
A plan to help your family shape the way you will use the internet and technology safely, responsibly and positively.
Useful sources of advice and information online, including how to report issues.